One helping hand can change everything for our kids
The sound of children laughing. At CAC Children's Services, that is a tremendous reward for what we do. As we prepare infants, toddlers, and preschoolers for success in kindergarten – and for a lifetime – our vision for our community's children unfolds.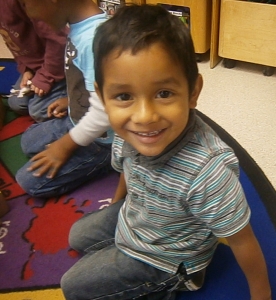 Eligible low-income families – including children from birth to five years old and pregnant women – are welcome to participate in our services at little or no cost.
CAC Children's Services offers:
full and part-time schedules for infants, toddlers, and preschoolers
nutritious, delicious meals and snacks
medical, dental, and mental health screenings
parenting education workshops
programs for fathers and grandparents
prenatal screenings for pregnant women
services for children with special needs and disabilities
26 Head Start and Early Head Start centers throughout the County
To learn more or to enroll, please call the office nearest you:
Goleta Regional Office: 805-964-8857
Lompoc/Buellton: 805-740-4555
Santa Maria: 805-922-2243
Success Story: A Little Can Change a Lot

Parental neglect. That's how Brooklynne began her life. She wasn't even a year old when she became part of the Child Welfare system.

She was placed with Rosemary and John Rosas and they fell in love with her. When an aunt took her in for a short time, they were devastated. But it was a joyous reunion when she was finally returned to the Rosas family. Determined never to lose her again, they began formal adoption proceedings and enrolled her in the Head Start program. It was important to them that she received a positive early education. She began to thrive.

Today, Brooklynne is a long way from her broken beginnings. Rosemary and John's loving, supportive home, together with a solid Head Start education, has given her the foundation to soar.