Para leer esta página en español, haga clic aquí.
Contact Us today to see if you qualify:
Phone: (805) 617-2897 or Email: Energyinfo@cacsb.com
CAC's Home Energy Upgrade Program helps make the homes of income eligible families safe and warm by installing no-cost energy saving measures. The average family can save up to $400 a year with the installation of these measures and by following helpful energy saving tips.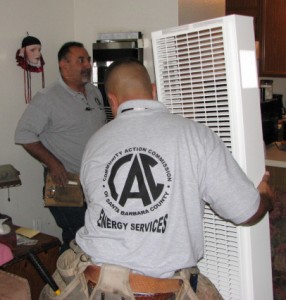 All of these services are free to Income Guidelines 2019
home owners and renters. These services may include:
Safety Testing of all gas appliances
Insulation
Weather-stripping
Water Conservation

Low flow shower heads
Aerators
Thermostatic Shower valve

Compact Fluorescent Lights
LED Lights
Carbon Monoxide Detectors
Emergency Appliance repair/replacements

Heater
Hot Water Tanks
Stoves/Ovens
Refrigerator Upgrade
Call today to see if you qualify: (805) 617-2897 or email us at Energyinfo@cacsb.com